The Adrenaline Impulse is one of the most (if not the most) popular Private Label Impulse's to ever hit the market. You can still find them for sale floating around Ebay, Craigslist and all the paintball forums. And they always sell! If you want to sell your Adrenalin Imp, somebody will be their to buy it every time. Even though it's been over 10 years since they were first introduced, they have stood the test of time. The Adrenaline is one of the only TRUE private label impulses. Many of the other PL companies simply altered the milling a little bit, slapped a new coat of anno on it and called it a day. Not Adrenaline, these guys were different. They completely redesigned the Impulse and did things that no one had ever done before. They strove for perfection and their customers knew it. The grip had been redesigned 3 times, the body 5 times, the technology in the GP valve twice. In fact, virtually all of the components were sent back to the drawing board at least once. Finally, in August of 2002, the guys from Adrenaline were ready to unviel the Impulse to the world at the International Amateur Open…the rest is history. So, how did this epic PL Impulse first come into existence? I caught up with with James Graley, owner of Adrenaline Products to get the inside scoop.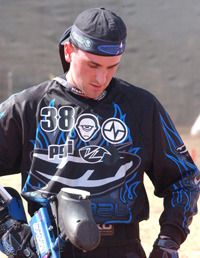 How did it all begin?

We, our paintball team, consisted of a machinist, a guy great in electronics, and a couple of business guys. In 1998 we started making the first custom products for the Angel (along with Planet Eclipse) and debuted a few at the 1999 Skyball event. We tried to get access to raw Angel bodies from WDP and they refused saying they only worked with Planet Eclipse. So we bought 10 guns fully completed and ripped them apart and milled the crap out of them. Once they saw them at the 2000 Amateur Open trade show, the owner said "give them anything they need to buy." It was great. However, after a couple of years, we started getting very frustrated with WDP and how we were being treated. As one of the major custom Angel companies, we thought maybe Smart Parts would be interested in having us "switch teams" and design a PL Impulse for them. I called up Adam and Billy Gardner (Smart Parts owners) and they invited us all up to the factory in Latrobe, PA and showed us around and then took us out to dinner. We signed on with them on the spot, stopped all Angel production and started working on all new Smart Parts designs.
One potential design change that that stood out to us right off the bat (and we were always very smart this way) is that I met with the two top engineers there (other than Billy) and asked them if there was anything they wanted to do to the Impulse but it got cut out due to cost/budgeting. Glen Perry (one of the geniuses behind the Impulse line) showed us how he wanted to rework the airways. It would drop the pressure of the gun but required additional parts and Smart Parts didn't approve. We, however, did approve and the GP Slide Check valve was born! The valve was named after Glen, hence "GP". It changed the pressure of the gun so much that all of our boards required custom software flashing to run differently (the range of chirps on the dwell). It's basically a built in LPR.
Who came up with the design?
We designed the milling to reflect our similar pattern on the Angels. We actually wanted more "twisting" on the Angels but we only had a four axis mill. Smart Parts had a five axis mill that they let us use so we jumped at the opportunity. My partner and co-owner, Chad Fuller, came up with the GP valve insert showing through the milling in the side with our company name.
Speaking of the company name. I have seen Adrenaline spelled both with and without an "e" at the end. Did you have copyright issues with the name?
Yes, believe it or not a pharmaceutical company has the rights to the name without an "e". We filed for trademark anyway saying that we were in a different field. We fought over it for a while and finally they compensated us to add an "e" to the end of our name. Everything from guns, paintballs, team name, etc. We had to trash a bunch of stuff but not any guns. Anything with an "e" on the end will be newer than those without an "e". As it would be post settlement.
How much testing went into these guns?
Probably a good eight months. We started early in the year and didn't debut them until the Amateur Open in August. We had problems with the air pressure at first so we had some tweaking to do with the board as I mentioned earlier.
A lot of the parts were Adrenalin specific parts and hadn't been done before. An absolute dump truck load. In fact we had two 10-man teams, an NPPL Amateur A team and an Amateur B team. So we had 24 team guns between those two teams and really ran them through the "ringer" on the field. Plus, because I named the GP valve after Glen and used his "pet project" in our system, he did a ton of factory testing with us too.
We used to just sit around an all think about what we could do differently. We vowed never to just mill the body and change colors and call it a private label. That wasn't our thing (although nothing wrong with that). We changed a ton on the Angels (some things others starting doing after us) and we changed a ton on the Impulse too. Our shocker would have been pimp but we sold the company right when we were finishing it.
Was the milling done in house?
We did all of the Angel milling ourselves but the Impulse's were done at Smart Parts due to the 5 axis mill work.
Who did the anodizing work for you?
It depends on the colors. The solids ones were mostly done by PK Selective and the fades were done by a company Smart Parts contracted for us.
How many Adrenalin Imps were produced?
I want to say somewhere between 500 and 600. I'm not positive but I feel like I remember seeing 500 series serial numbers (like AI557) but no 600 series.
We had about 40 pre-ordered from our first batch of 50. We sold the last of that batch at the IAO. The first 24 guns were for our team/testing. They were black-blue dust fade and were serial numbers A.I.000002 - A.I.000024.
Did you get the first Impulse, A.I.000001?
The company was pretty much myself and Chad Fuller. I got AA1 on the first LED Angel, he got AA1 on the first LCD Angel, so when the imps came around, it was my turn again so I got #1. I sold it on Ebay a few years ago with a certificate of authenticity but I think the guy was just buying the gun and didn't even know what he was getting. I wish I had that and the AA1 back to put on my wall at my home!
*Note* I believe this is a picture of the AI that James is referring too!
Why did it all end? Too much competition?
No not really, things were going well for us but our team broke up (its back together now) so we lost a lot of our desire to be in the paintball scene. I was getting out of law school and ready to start focusing on my law career and then we had an opportunity to sell the company and make a little money so we took it. When we started in 1998 and 1999, we were the same size as Dye was at events, we did over a million in the year 2000 and me and Chad always wonder how things would be different if we had focused on the company back then rather than looking at it as a hobby and merely a way to pay for our paintball trips.
P.S. I saw your I-O site today, the Impulse of the Month competition had 2 Adrenalin Imps out of the 3 contestants. It really made me smile! We are playing in the 2012 CFOA (Carolina Field Owners Association) as a reunion event in mid summer, so if you are there and see us and have an AI please bring it up, I'd love to see one again.
What was up with the BuyPb name?
We love Penguins!! Haha, I don't know, we sold the company in 2005 and the buyers went out of business so I guess they let the domain name go. I wish I hadn't let the PaintballCity.com domain go. When we owned it, it was as big or bigger than PbNation at the time.
*Note* The info below was posted on the Adrenaline site back in the day. Adrenalin was much more than just a Private Label shop. James was a smart cat that made a lot of intelligent business decisions.
Adrenalin is proud to announce it has acquired PaintballCity.com & ProPaintball.info. PaintballCity.com is clearly the industry leader in online community services. PaintballCity.com provides its user base, which is currently over 32,000 registered members, online forums, chat rooms, auctions, product reviews, news, rumors, Email services, private forum services, games, the weather, technical articles, playing tips, commentary, videos, and a comprehensive photo gallery. ProPaintball.info provides detailed tournament results, news, team rankings and statistics, player bios and interviews, regional and national statistics, autographed memorabilia, tournament forums, predictions, and tournament rumors and gossip.
PaintballCity.com and ProPaintball.info should blend well with BuyPB.com, which is quickly becoming the premiere online paintball store. As part of the deal, James Murray, will be retained as Chief Information Officer of Adrenalin Products and also serve as Head of Internet Development. Murray will handle the integration of the three sites as well as the enormous member database.
In the past, members were required to pay a monthly fee to enjoy services on PaintballCity.com. Adrenalin has announced that they will provide all major online services free of charge. Members who wish to upgrade their account and browsing experience may become an Adrenalin Network member at a small fee and immediately begin enjoying discounts at BuyPB.com, subscriptions on paintball magazines, free service credits for advanced Auction features on PaintballCity.com, bannerless browsing, personalized forums for personal site use, an Email
address@paintballcity.com
, increased account features such as avatar size and in-thread image posting, and a $10 or $20 coupon to used at BuyPB.com for online purchases. Members, both free and paying alike, will also be able to enjoy a host of new services that will debut later this year.
James Graley from Adrenalin Products stated, "We want to provide a seamless Internet experience for all paintballers. It's crazy to jump all over the Internet searching for paintball related needs. Our goal is to provide everything that today's players are looking for in one network of sites. PaintballCity.com and ProPaintball.info were the final acquisitions we needed in order to fulfill that goal."
With over 35,000 registered users, the best forums, the best information, and our incredible Online Paintball Superstore, the Adrenalin Network of sites is clearly the ultimate Paintball destination.
---
Below is some info about the guns and parts themselves. I also included some pictures of the original AI's that were for sale on their BuyPb.com website.
The first batch of 50 Imps were released in August 2002. The first 25 of those were reserved for the Adrenaline team guys.
Adrenalin Impulse:
--New Style "Cricket" Vision Board
--Adrenalin Bolt (Black Delrin)
--Adrenalin Stainless Hammer
--Derlin Valve
--Adrenalin GP Slide Check: this is like an extremely fancy tapeworm. It's actually mechanical and moves back and forth to regulate airflow somewhat like a 14-way does. Its an Air Check Valve. It functions the same or better as an LPR setup except it does not lower the operating pressure and functions at about 165psi.
For 135 psi setup see LPR option below. It takes up the entire right tube and has a threaded front tube that is colored or chromed and can be changed for different colors (so the milled through name shows up differently). If you choose an LPR option instead, the GP setup wont function along with it and you'll receive an colored or chromed tube/airway instead.
--Choice of Adrenalin Low Rise or Adrenalin Hi Rise
--Adrenalin Grip Frame (choice of Single Trigger or Double Trigger setup): this is a 1-piece frame/solenoid tray housing that will fit the new cricket board. We relocated the speaker to decrease the height by 1/2" and we moved the grip forward quite aggressively. There is no milled section for the old style on/off switch or for the rubber cover on the right side. Pictures will explain more when they are out soon. (we redesigned it recently) but its really complicated. It has a built in magnet for the magnetic trigger that is unique from current designs.
--Adrenalin Impulse Button Pack: Chrome on/off (cricket button) on the back replaces the black plastic one. Chrome vision button on right side of frame, threaded stainless-steel allen key for dwell button to be tournament legal. (overall the frame/solenoid setup the shiznit)
--Worlds First ever 4th Axis Impulse body. The Adrenalin Impulse body has been custom drilled for unique airflow and connections. The review by IOG or the Impulse FAQ will explain this more but this means some parts wont fit on our body (you have to use an Adrenalin vertical adapter for instance). The Air inlet and the vertical screw has been moved forward to align the gas-through grip with the front of the grip frame rather than setting it back off of it. This allows for room to get your fingers in between it and the trigger frame since we moved the frame forward about 1".
--Choice of Adrenalin vertical or Adrenalin 15 degree US threaded vertical adapter. (these look really cool). Right now these only work on the adrenalin body (due to unique airflow and connections) but we're coming out with standard versions really soon.
--Adrenalin Single Trigger (for single frames) or Double Trigger (for double frames) and for double you have either stick or double trigger design. The trigger won't fit into a current impulse right away but we are working on it. The custom trigger setup fits only in our frame as of now.
--Adrenalin Gas Through Grip molded to fit your hand
--Adrenalin Rear Block setup
--Adrenalin Front Cap with bubble sticker covering up an allen screw. Should you choose to upgrade to the LPR setup at any later date, simply remove the adrenalin sticker, remove the allen screw and thread in the Adrenalin LPR and you're good to go (after you take out the GP check-valve and insert the air-tube).
--Matching (both front AND back) freak barrel with choice of 1 insert (any size you want).
--Blasted Finish
--Solid Color anodizing (blue, red, purple, green, black, silver, etc)
--Color matched soft-gel sticky grips
--Adrenalin plastic photo ID Card for service and repair tracking as well as theft protection and Adrenalin event admission.
--Basically the only parts that aren't custom is the ball detent, the solenoid, ram, the cricket board and the sticky grips.
--Adrenalin customer service and coverage (you want something special we can make it happen for you).
$949.99
Same as above but in 2-color fade anodizing:
$999.99
Same as above but in 3-color fade anodizing:
$1049.99
Options:
--Reflective Polished finish rather than blasted finish: +$50
--MATCHING max flo regulator and 68 ci tank: $350 (other tank sizes available)
--Remove gas-thru grip and add vertical max flo (matching): +$50
--Upgrade from freak barrel with 1 insert to entire set with case and all inserts: +100
--Upgrade barrel back to stainless steel: +$20
--Adrenalin Impulse barrel condom $6.99
--Adrenalin Tank cover $16.99
Stocked colors of Acid Wash/Brush Strokes/Splashes--$1099
Custom Colors (you pick) Acid Wash: $1149 (blasted) $1199 (polished)
Custom Colors (you pick) Splash: $1149 (blasted) $1199 (polished)
Custom Colors (you pick) Brush Strokes: $1149 (blasted) $1199
(polished)
Aurora: $1299 (tentative pricing)
Adrenalin Impulse Premiere Package:
3 color fade, freak set with stainless steel back or matching aluminum back, adrenalin impulse barrel bag, gas thru grip and matching bottom line max flo and 4500 68ci tank.
$1449.99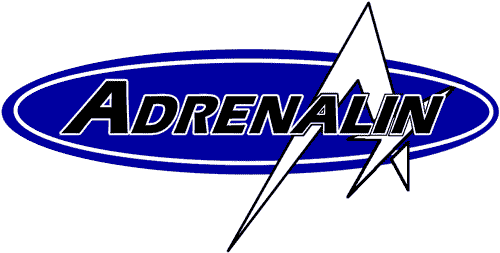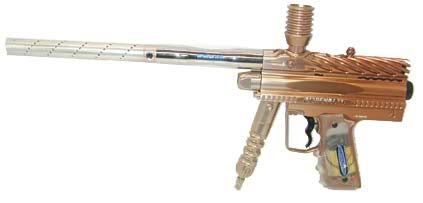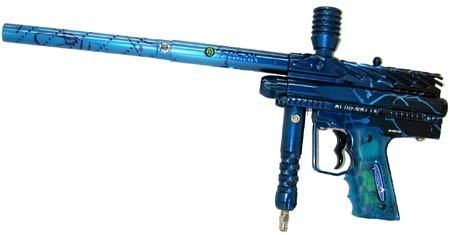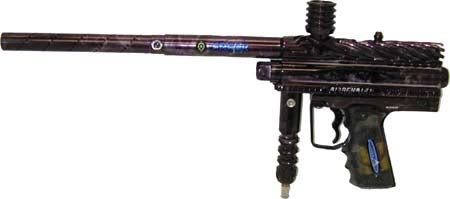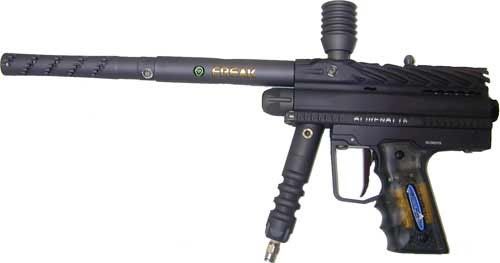 ---
Things to know about Adrenalin Imps
---
A.I.M Trigger Frame:
The Adrenalin Grip Frame came with a choice of Single Trigger or Double Trigger frame setup. The Adrenalin Grip Frame is a 1-piece frame/solenoid tray housing that will fit the new cricket board. They relocated the solenoid tray setup to decrease the height by 1/2" and moved the entire grip forward quite aggressively. There are no milled sections for the old style on/off switch on the left or the rubber cover on the right side. It has a built in magnet utilizing a unique magnetic trigger setup.
After reviewing customer comments about the frame and its magnetic trigger, they modified the trigger frame in August of 2004. Adrenaline modified there old frame so that you now had a choice of spring or magnet pulls, at any strength.
Features of the new A.I.M. Trigger Frame are below:
-- Totally adjustable magnet pull strengths (as weak or as strong as you like).
-- Or if you like a spring feel, drop in the Spring, were you can also adjust your trigger pull as strong or as weak as you like.
-- New Side to Side adjustment screws, keeps it nice and tight or you can make it sloppy, if you so desire.
-- New battery stabilizer adjustment, keeps your battery locked in place so your not wondering what that rattling noise is all the time.
-- Your choice if triggers are: Double Finger, Double Stick or Single.
-- Micro Switch View Window, so you can actually see the micro switch to insure a proper setup.

Black is the "new style" and Green is old. Note: "new" has set screw in the back to hold the battery in place.

Vertical Adapter:
The Adrenalin Impulse can only use an Adrenalin vertical adapter. A stock VA will not fit on an Adrenalin and an Adrenalin VA will not fit on a stock impulse. This is because Adrenalin changed the airflow connections when they redesigned their impulse.
LPR/GP Slide Check Valve:
If you are looking to add a LPR to your Adrenalin Imp, it's not as simple as it would be if you were adding one to any other stock or private label impulse. As I said before, Adrenalin redesigned their impulse, they didn't just give it a makeover. A standard Smart Parts or NDZ lpr nipple/barb will not work. You can only use an Adrenalin barb/nipple.
The GP Slide Check Valve is a tapeworm on steroids. It's an air check valve and functions the same as a LPR setup except it does not lower the operating pressure. It functions at about 165psi and is kind of like an internal LPR.
If you want to install an LPR, follow the steps below.
remove the GP valve and tube. *Hint* Look down the barrel of the gun, the GP valve is on the left. The right tube is dead.
unscrew the top piece from the tube and attach one that has a nipple/barb on it. *Hint* Voodoo Paintball currently has a bunch of GP valve LPR barbs for sale or you can always drill/tap the one you currently own, and install a 1/8'' barb on it. I buy my barbs from Palmers Pursuit usually.
put teflon tape on the GP valve threads and re-install.
remove front cap and install LPR
attach "autococker hose" from the LPR to the barb/nipple and you're ready to rock!
*Hint* Another way to identify the GP valve is that it has 2 orings on it. Not the tube, but the top piece has 2 orings. The dead sides top piece or "plug" only has 1 oring on it. They are not interchangeable.

Dead tube plug - see only 1 oring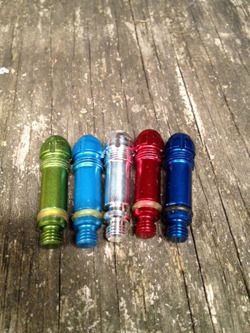 Stock GP valve w/out barb - see 2 orings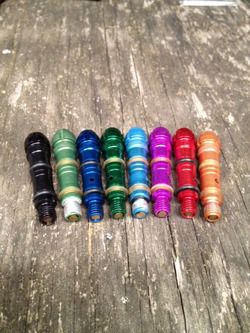 GP valve w barb - see 2 orings